EDEN
Edie/Eden - Quinn's landlady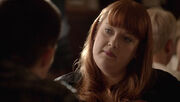 About her
Eden, Played by Emily Walker, is Peter Quinn's landlady with whom he has a brief sexual relationship prior to his return to Islamabad. Quinn is arrested when he attacks two men in a bar for insulting Eden. (Trylon and Perisphere)
Eden was smart, funny and compassionate.  She genuinely cared about Quinn.  I didn't see anything offensive about her.
Trivia
I saw from a pointernet that people were talking about Quinn's landlady from season 4 played by Emily Walker.  I see some people didn't like her - I really liked her story line and liked her character.
I realise a lot of people didn't like her because she was fat and they felt that her scenes were trying to show the depths to which Quinn had sunk.
I watched and loved season 1 of My Mad Fat Diary and that show generated much of the same debate because the hot guy was with the fat chick and a lot of people just could not believe that Finn could ever care for someone like Rae .
Anyway, it's an interesting debate…
Trending pages
All items (70)