What's it like to kill someone? - Chris Brody question for your father
Chris Brody is the son of Nick and Jessica Brody, the younger brother of Dana and the older half-brother of Franny Mathison.
Biography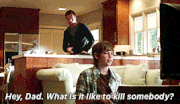 Chris Brody is the son of Nicholas Brody and Jessica Brody. He was too young to remember his father. He also had his difficulties when his father suddenly returned. Still, he is happy with his new father. In time, however, it is anything but easy for the boy to put up with his parents' problems.
Father's return
With his father missing for most of his life, Chris admits that he doesn't even remember him. (Pilot)
Behind the Scenes
Appearances
Quotes
"You are."
"Absolutely. Fort's still in tact."
"Mom, how was your job interview?"
"I think it's pretty cool." - Episode 1: Tin Man Is Down
"Mum."
"Just leave her alone."
"Well, don't. You're driving her crazy."
"Maybe she's not hungry."
"Mum, really. Don't." - Episode 2: Uh… Oh… Ah…
*stands up* - Episode 5: The Yoga Play
"Dana Lazaro. Sounds pretty cool." - Episode 6: Still Positive
Reviews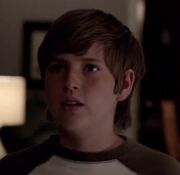 Chris Brody. Everyone's favourite non-existent Homeland character.
Played by Jackson Pace, the son of is-he-isn't-he soldier/terrorist Nicholas Brody's path couldn't be more different to that of his sister, Dana (Morgan Saylor). After trying to commit suicide, she went running off in Season 3 with an unstable teenage boy before stropping around the family home with angst on her face. Chris, meanwhile, did nothing. He could easily have not had a face at all. While Dana appeared in six of 12 episodes, Chris appeared in just four. And he didn't even speak in all of them: in the screenwriting world, Chis Brody got top marks at The Milford Academy.
But if Saylor is one of the most interesting performers in the series, albeit the one given the worst story lines, Pace hasn't let the team down: despite being the most underwritten character in modern TV history, he has been sure to make the role of Chris Brody his own. In one scene, he stood up. In another, he sat down. Sometimes, he disappeared for six episodes in a row. - Ivan Radford
External links