'Homeland' Profile: Dar Adal
Play Sound
"There's something dogmatic and dangerous, something distinctly un-American." says Dar of Elizabeth Keane.
Dar Adal (The master manipulator) is a CIA Black Operations Director and an old friend of Saul Berenson's. He and Berenson served for a period at the CIA station in Nairobi, Kenya, mainly on covert operations in neighboring Somalia. (Homeland Novel: Saul's Game)
Biography
He is a black ops specialist, leading a secretive cabal within the CIA (informally referred to as "the Group"). He is an old friend and colleague of Saul, as well as Peter Quinn's handler and longtime mentor, having recruited him to the agency when he was only 16 years old (it is later implied that he sexually groomed the young Quinn). Dar is discreet, calculated and highly pragmatic in his dealings, often overstepping legal and ethical boundaries to ensure what he believes is the best outcome.
Season 2
He is introduced as having lent Quinn to Estes to oversee the Brody operation. Saul confronts Dar after learning that Quinn was sent to assassinate Brody in case the CIA's plans went awry.
Season 3
After Saul is named acting CIA director following the 12/12 bombing of the Langley headquarters, he and Dar work together to dismantle the network of Majid Javadi, the Iranian deputy intelligence chief who financed the attack. Saul, Carrie and Quinn secretly conduct an operation to convert Javadi into a CIA asset and send him back to Iran to be replaced as IRGC chief in hopes of regime change; though Dar only learns of the plan after its first stage is complete, he immediately supports Saul (unlike Senator Lockhart, who the two of them overstep to ensure the plan succeeds). Saul sends Brody into Iran to assassinate the existing intelligence chief; though Saul makes a longshot attempt to extract Brody afterwards as a promise to Carrie, Dar and Lockhart sidestep him and allow Brody to be captured and executed by Iranian authorities, knowing it would be operationally and politically more expedient.
Season 4
After Taliban leader Haissam Haqqani invades the U.S. embassy in Islamabad and takes control of most of the region, Dar makes a deal with him, agreeing to remove Haqqani from the CIA's kill list in exchange for Haqqani denying sanctuary to terrorists in Afghanistan. Saul agrees to the deal despite his own near-death at the Taliban's hands in Islamabad after Dar informs him that he has negotiated the erasure of video footage of Saul's captivity under Haqqani, which would preserve Saul's chances of becoming CIA director. Carrie confronts Dar at his home, arguing that Saul would never agree to such a deal, but is dismayed to find Saul already at Dar's house, realizing he is complicit in Dar's political maneuvering.
Season 5
Dar and Saul at the Berlin station to resolve the issue of data leaks. Due to the influence of Allison Carr, Dar and Saul come into conflict. In the course of this, both work alongside Carrie to find out about the terrorist attack in Berlin. At the end of this season, Dar Adal presented Carrie with the letter Quinn wrote to her before sailing to Syria.
Season 6
When Senator Elizabeth Keane is elected President of the United States, Dar and Saul relocate to New York to advise her on the country's foreign policy and intelligence efforts. Dar begins secretly plotting with his cabal to undermine Keane out of concern that her antiwar platform will lead to undesirable overhauls of the intelligence community. He starts by seeding a rumor that Iran is running a parallel nuclear program with North Korea, thereby contravening the terms of their nuclear agreement. When Dar learns that Carrie is discreetly advising Keane on foreign policy, he begins working against her as well, sending one of his special operatives to spy on Carrie from across the street of her apartment, and calling child services to place her daughter Frannie in foster care. Dar also oversees the operations of a vast troll farm run by right-wing radio host and provocateur Brett O'Keefe to spread disinformation targeted at Keane.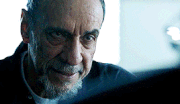 Dar soon learns that a faction within his cabal (led by General Jamie McClendon) has escalated the scope of the operation without his approval, and are now plotting to assassinate Keane and frame Quinn as the perpetrator. Dar calls Carrie to warn her about the assassination attempt; Quinn ultimately sacrifices himself to save Carrie and Keane. Dar is arrested and put in federal custody for his role in the conspiracy. Despite expressing regrets about losing control over his cabal, Dar nonetheless warns Saul that Keane cannot be trusted, and his suspicions are apparently corroborated when Keane arrests over 200 federal employees (including Saul) as backlash for the attempt on her life.
Season 7
Senator Sam Paley, who is leading a Congressional investigation into the Keane administration, visits Dar in federal prison for insight regarding Saul's sudden trip to Russia. Dar infers that Saul and Carrie are conducting a special operation there, which leads Paley to discover that Saul is planning on exfiltrating a key witness in a Russian conspiracy to undermine Keane's presidency.
Novels
Dar is a fictional character, who appears in the novel written by Andrew Kaplan: Carrie's Run and Saul's Game
About Him
An old school CIA agent and contemporary of Saul's, Dar Adal always takes the long view and likes to play both sides of the fence. He is a typical Agency career man -- no one can trust him for anything.
Dar Adal was motivated to maintain the CIA's presence in the Middle East, while Keane wanted to pull out completely. Keane was completely against the CIA as a para-military organization, which was basically Dar's entire purview. So it was a self-preservation tactic.
He had been in the business for too long. He was one among those who thought projecting American power and controlling other nations is essential.
On the other hand, the administration under Keane was anti-war. Moreover these people believed that how could someone from the outside come and just throw a lid on top of all the agencies and change what they had been doing for years.
So his motive was to project American Power through war, and for this his plan was to undermine the presidency under Keane's regime, so that she could learn that no one should go against the intelligence agencies.
So to fuel this he was just finding motives to bring Keane to the offensive, but when she didn't act like that, he started undermining her through propaganda and lies. And that's all what he wanted, now his peers took it a step further by planned o assassinate her. He was involved in the plot to undermine Keane, now not in the part to literally kill her and frame Quinn.
At the end of the day we have to remember that Dar is the anti Saul, he's the dark side of the cia. So everything he does and did is expected of his character and important to the story line. Minus calling cps on Carrie just to get what he wanted from her. It's still a dark cia tactic but I mean that's kinda crossing a line a bit. Just a bit. But still dark cia has no limits or lines they won't cross.
Trivia
Homeland Revealed: The name Dar Adal is fictitious, and generated, in part, as a poke from Alex Cary at his writing colleague, Henry Bromell. "Henry never got names of characters right," Cary laughs. "He'd get them slightly wrong. I was writing the episode where Adal is introduced, and Henry was writing the episode that was to follow it. Rather than call the character John Wilson or something more obviously provisionary, I called him Dar Adal, just to fuck with Henry. I knew he'd never be able to get it right."
"'Dar,' in Arabic, means 'home,'" Abraham explains. "I thought that was kind of interesting–because 'home' is part of the title of the show."
Quotes
DAR: "Still afraid to get your hands dirty Saul?"
SAUL: "I still prefer to figure the problem out...not obliterate it"
DAR: "You're too soft for this line of work. You always have been. I'm amazed you've lasted this long".
"SHE FINALLY BRINGS YOU DOWN, LIKE I ALWAYS TOLD SHE WOULD." — DAR ADAL for CARRIE
Dar Adal said to Saul: "You remember what Graham Greene said, don't you? The secret services are the only real measure of a nation's political health. The one true expression of its subconscious."
"President Keane: 600,000 voted for me, who voted for you?
Dar Adal: Nobody!"
Comments
From NYT's homeland review and interview with the created of Homeland: "And, having interviewed the Homeland showrunner Alex Gansa this week, who let it be known that Dar's presumed sexual abuse of Peter was not at all a sure thing, I feel I can permit myself again to have a little bit of begrudging fondness for the old man. Just as Quinn had himself, perhaps" so in other words they haven't decided!
Behind the Scenes
Appearances
Season 2
"The Smile"
"Beirut is Back"
"State of Independence"
"New Car Smell"
"Q&A"
"A Gettysburg Address"
"The Clearing"
"I'll Fly Away"
Two Hats
Broken Hearts
"In Memoriam"
"The Choice"
Season 7
"Enemy of the State"
"Rebel Rebel"
"Standoff"
"Like Bad at Things"
"Active Measures"
"Species Jump"
"Andante"
"Lies, Amplifiers, F**king Twitter"
"Useful Idiot"
"Clarity"
All In
"Paean to the People"