David Estes
Status:
Deceased
Age:
44 (at death)
Date of death:
December 12, 2012
Nationality:
American
Affiliation:
Central Intelligence Agency
Profession:
Director of the Counterterrorism Center, CIA
Marital status:
Separated or divorced
Children:
Kenneth Estes
Felicia Estes
Played by:
David Harewood
Season(s):
1, 2
First episode:
"Pilot"
Last episode:
"The Choice"
David Arthur Estes (1968– December 12, 2012) was Carrie Mathison's boss at the National Counterterrorism Center of the Central Intelligence Agency, until he was killed in a terrorist attack at CIA headquarters.
Biography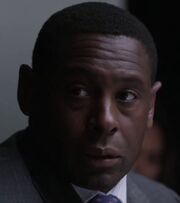 David Estes was the ambitious Deputy Director of the Counterterrorism Center of the CIA. When Carrie caused a diplomatic incident by sneaking into an Iraqi prison to speak to Hasan Ibrahim, he pulled her out of the field and sat her behind a desk at Langley. He took some personal credit for the rescue of Sgt. Nicholas Brody, which scored him brownie points with the current President of the United States. Thus he was frustrated when Carrie attempted to link Brody to Abu Nazir.
Personal life and relationships
Pre-Baghdad they, Carrie e David, were in a relationship (an affair, really), David probably told her he loved her, Carrie freaked, went to New York, left for Iraq.
Estes hinted that some of his anger toward Carrie was caused by a relationship they had that ended up in his wife leaving him to live in Palm Beach, Florida. Because of that he then saw his children only twice a year.
A devout careerist, his personality was strictly professional and bitter. He showed virtually zero compassion and had virtually no life outside of work.
Career
Estes owed his success to former Vice President William Walden.
The two were close colleagues when Walden, then Director of the CIA, endorsed an American drones strike of a madrasa in Syria which killed 82 innocent children. His unwavering loyalty got him promoted to be Deputy Director, an a Walden presidency would have most likely made him Director.
Leaving behind a relatively short tenure, his main achievement was overseeing the death of Abu Nazir (despite having little involvement in the strike).
Death
On December 12, 2012, mere days after the death of both Walden and Nazir, a funeral service was held at CIA headquarters for the Vice President (who was a former Director). David Estes was delivering the eulogy when a massive explosion rocked the building, killing him and 218 others.
The event would become known as the Langley Bombing, 12/12, and the Second 9/11. An al-Qaeda cell planted explosives in Congressman Nicholas Brody's SUV. It was done to frame Brody as payback for his betrayal. Nazir's death was thus highly strategic, as it allowed the CIA to let its guard down
Amidst the wreckage, Saul Berenson became sworn in as acting Director of the agency.
Appearances
External links