Franny: "Are you coming back?"
Carrie: "Of course I'm coming back, I'm going work and I always come back when work is over , don't I? HEY, FRANNY? I ALWAYS COME BACK ."
Frances "Franny" Mathsion is the daughter of Carrie Mathison and Nick Brody.
Biography
Franny is the illegitimate daughter of Carrie "Drone Queen" Mathison and Nicholas "Marine One" Brody, born a few months after her father's violent death.
Season 3
Months later, Mathison left his daughter with Maggie, her sister; and Frank, Frannie's grandfather; reluctant to be a mother. In Kabul, Carrie is the CIA's youngest station chief.
Season 4
Because she looks a lot like Brody, Carrie finds it very difficult to take care of her. She still grieves too much to be a good mother to the little girl. Carrie goes so far as to want to drown Franny in the bathtub, but balks at the last moment. Because she does not see herself as a suitable mother, Carrie puts Franny in the care of her sister Maggie. Together with her father Frank, she takes care of the little one until his death, while Carrie is stationed on the other side of the world in Afghanistan and Pakistan.
Carrie eventually embraces motherhood after returning from Islamabad, and takes Franny with her to stay in Germany.
Season 5
Two years later, Franny lives with Carrie in Berlin, where she works for the Düring Foundation. Franny goes to kindergarten and speaks German. She also has a crush on Carrie's new boyfriend Jonas, who not only shows at her birthday party that he really enjoys taking care of the girl.
When Carrie's work in Germany makes it too dangerous for Franny, She is sent back to Maggie in the USA. Carrie, who has meanwhile absorbed her role as a mother, misses her little one very much and tries to keep in touch with her regularly. But when it looks like she'll have to go into hiding and fake her death to protect her family, she bids farewell to Franny with a video message.
Season 6
In New York, Franny is reunited with her mother, Carrie. They have a big house with a granny flat and a nanny looks after Franny during the day while Carrie is at work. When Carrie puts Peter Quinn upstairs in the basement, Franny notices and is curious who the man is. Over time, however, she gets to know Peter better.
When Carrie wants to pick up Franny from daycare a few days later, Dar Adal comes along. Franny notices that Carrie is worried, but her mother calms her down. When they get home, Peter is already waiting for Carrie and Franny asks him if he's had his snack since it's time. Then she tells Peter about Dar Adal.
After the New York bombing, Franny follows the news mesmerized with Quinn, but Carrie drags her away from the TV to have breakfast. Carrie tells her not to worry because they are all safe and that life is going on as normal. However, since school is closed that day and Carrie has to go to work urgently, Quinn stays with Franny until the nanny comes. The two play together until suddenly several news teams show up in front of the house and ask for Carrie. Franny then wonders what her mother did when everyone is so mad at her. The situation escalates as the afternoon progresses, and Franny watches as Quinn drags a reporter through the apartment and shoots at a man who threw a rock through the window. She and her nanny Latisha are taken to the bathroom by Quinn, where they are said to be safe, but the police interpret the whole situation as a hostage situation and only let Carrie into the apartment hours later, where she can make sure Franny is okay. But then the police stormed the apartment and arrested Quinn in front of everyone. Exhausted, Franny falls asleep next to her mother a short time later. Latisha and her husband promise to take care of Franny for the next few days so Carrie can take care of all the chaos and the bombing. The very next day, however, Carrie takes her daughter home and tries to give her a feeling of normality and security.
Shortly afterward, someone from the youth welfare office comes to Franny's school and questions her about the hostage situation at her home. Social worker Christine Lonas assesses Franny as traumatized. She is then taken to an orphanage without being able to speak to her mother again. In other conversations with Lonas, Franny is said to have said she was scared to death and that Carrie slept next to her with a loaded gun. All this ensures that Franny is not allowed to return to her mother for the time being. Franny is a few days away from seeing her mother again, and even that is just a brief afternoon meeting monitored by child welfare. Shortly thereafter, however, Carrie manages to control her life to the point that the youth welfare office gives her custody again under certain conditions.
Season 7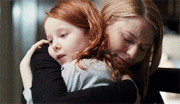 Franny is now living with her family in Washington again with Carrie.
She gets along well with her cousin Josie, as well as her parents Maggie and Bill. However, she notices that her mother is not always well and that she is often distracted. She doesn't like it when Carrie fights with Maggie and Bill and gets scared when they rush out of the house. Carrie didn't think about packing things for Franny too and when they are turned down by the receptionist at the motel because Carrie's credit cards don't work, Franny starts crying. She wants to go back home, which to her is Maggie and Bill's house. Carrie tries to calm her down and finds a short-term solution by letting them stay with Dante Allen. Franny relaxes a little in Dante's apartment and tries to get to know Dante better. She is very happy when he gets her some of her things from home. During the night, however, the apartment is stormed and Dante is arrested, which frightens Franny. Carrie takes her to school the next morning, but Franny is still traumatized by the events of the night. She can't concentrate at school and keeps crying until Maggie finally picks her up. Because Carrie told her not to tell anything about the night's events, Franny doesn't want to tell Maggie why she's feeling so bad. She finally gives in when Maggie promises Carrie won't get in trouble. She has a hard time falling asleep that night.
Two days later, Carrie picks Franny up from school surprisingly early, but then abandons her when she gets an important call. Franny runs after her mother and almost gets hit by her, after which her teacher takes her to safety. A short time later, the court will decide whether Carrie keeps custody of Franny or whether she should grow up with Maggie and Bill. However, the two sisters then agree out of court on visitation rights for Carrie, since she will never be able to live without her job. Carrie, on the other hand, realizes that Franny will be much better off with her sister and says goodbye to her daughter with a heavy heart, not without telling her that she will always come back to her. (Clarity)
Quotes
He would've been a terrible father. I mean, you think I'm a terrible mom? I am, but he would've been even worse. He was happy to hear that you were on the way, though. He was. I think it was the last thing he was happy about. And I tried to hold on to that and feel it, too. Happy that you're here. But with his being gone, I can't remember why I had you. I loved him so much. When I close my eyes, I still see him there. - Carrie shows daughter Frannie her father's house where they met.
I' m  s o  s o r r y. - Carrie for Fraany
Her father had red hair, and she has red hair. So, at first, whenever I looked, what I'd see was that he wasn't there.
"You are the most important… the best thing that I've ever done. You make up for every mistake that I've ever made. And altough you probably don't believe it, I love you very very much."
Trivia
In Season 5, her birthday occurs either in August (~4 months after Brody's death at the end of Season 3) or in April (when Season 5 with her birthday party).
As a baby, she was played by an uncredited actress in Season 4 while appearances in the following seasons were credited to different actresses.
References
Season 8: Prisoners of War
Reviews
"Consider this: Homeland rarely utilizes point-of-view filmmaking, meant to place us literally inside a character's head. But it does here. Carrie looks down at her baby. What would it be to be the mother of this child? And then we switch to the infant's point of view. What would it be to be the child of this mother?" THIS BABY IS THE LIVING, BREATHING MANIFESTATION OF ALL OF CARRIE'S BRODY BAGGAGE [x]
Behind the Scenes
Appearances
Season 5
Separation Anxiety
"The Tradition of Hospitality"
Super Powers
"Why Is This Night Different?"
"Better Call Saul"
"Parabiosis"
"Oriole"
"All About Allison"
"The Litvinov Ruse"
"New Normal"
"Our Man in Damascus"
"A False Glimmer"