'Homeland' Profile: Frannie Mathison
Play Sound
Hey, Franny? I always come back. - Carrie's promise to Franny
Frances "Franny" Mathsion is the daughter of Carrie Mathison and Nick Brody, born after her father's death.
Biography
Franny Mathsion was born 5 months after the death of her father Nicholas Brody, the Marine One. Her mother is Carrie Mathison, the Drone Queen.
Season 3
Months later, Mathison left his daughter with Maggie, her sister; and Frank, Frannie's grandfather; reluctant to be a mother. In Kabul, Carrie is the CIA's youngest station chief.
Season 4
Carrie initially avoids taking care of her daughter, leaving the infant Franny to stay with Maggie while away in Kabul, and nearly drowning the child in a bathtub while spending a day watching over her. Carrie eventually embraces motherhood after returning from Islamabad, and takes Franny with her to stay in Berlin.
Season 5
Two years later, Carrie lives in Berlin, working as a security consultant for the Düring Foundation and staying with her daughter Franny as well as her co-worker and boyfriend Jonas. After discovering that someone ordered a hit on her, Carrie has Franny sent back to the U.S. for her own safety.
Season 6
Months later, Carrie and Franny live in New York. Carrie allows Quinn, who is recovering from a stroke, to stay in the lower floor of her apartment. During this time, Quinn bonds with Franny and protects her when a crowd of protestors and press swarm the apartment. However, this leads to a tense standoff with the authorities, leading child services to take Franny away, deeming Carrie a risk to her daughter.
Season 7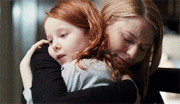 Carrie negotiates to reclaim custody of Franny and moves with her to Maggie's house after leaving her job at the White House. After an argument with Maggie, Carrie takes Franny with her, and the two struggle to find a place to stay until Dante Allen offers them his apartment as temporary living quarters. Carrie accepts despite suspecting Dante to be a Russian agent; the two have sex while Franny is asleep, when Saul's men burst in and apprehend Dante, traumatizing Franny. While picking up Franny from school, Carrie abruptly leaves to save Dante from being eliminated by the Russians, and nearly hits Franny with her car on the way out.
Maggie, considering Carrie's treatment of her daughter to be negligent and abusive, files for custody of Franny. Carrie gives up the custody battle, accepting a visitation agreement that allows her to see Franny every other weekend. (Clarity)
Quotes
Her father had red hair, and she has red hair. So, at first, whenever I looked, what I'd see was that he wasn't there.
"You are the most important… the best thing that I've ever done. You make up for every mistake that I've ever made. And altough you probably don't believe it, I love you very very much."
Trivia
In Season 5, her birthday occurs either in August (~4 months after Brody's death at the end of Season 3) or in April (when Season 5 with her birthday party).
As a baby, she was played by an uncredited actress in Season 4 while appearances in the following seasons were credited to different actresses.
References
Season 8: Prisoners of War
Reviews
"Consider this: Homeland rarely utilizes point-of-view filmmaking, meant to place us literally inside a character's head. But it does here. Carrie looks down at her baby. What would it be to be the mother of this child? And then we switch to the infant's point of view. What would it be to be the child of this mother?" THIS BABY IS THE LIVING, BREATHING MANIFESTATION OF ALL OF CARRIE'S BRODY BAGGAGE [x]
Behind the Scenes
Appearances
Season 5
Separation Anxiety
"The Tradition of Hospitality"
Super Powers
"Why Is This Night Different?"
"Better Call Saul"
"Parabiosis"
"Oriole"
"All About Allison"
"The Litvinov Ruse"
"New Normal"
"Our Man in Damascus"
"A False Glimmer"