Carrie knows, right? She knows everything about you. She accepts it. You must love her a lot. - Jessica talks about Brody's true feelings for Carrie.
Jessica "Jess" Brody (née Lazaro) is Nick Brody's wife and the mother of their children, Dana and Chris.
While Nick was missing for eight years, she began a relationship with his friend Mike Faber.
Biography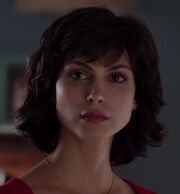 Jess and Nicholas knew each other from when they were at least sixteen, as learned in "In Memoriam". 
At Brody's return to the 'States, she is seen having an affair with Mike Faber, very much surprised to receive a phone call from her husband, Nick Brody, who went missing in actions eight years earlier and had been presumed dead.
Personal life and relationships
Jess has a strained relationship with her eldest child, Dana.
When Helen Walker remarried, Jessica strongly disapproved because she thought it reflected lost hope, despite her ongoing affair with Mike Faber.
About Her
Grew up… in Virginia. Jessica thought that she had her entire life planned out for her when she married her high school sweetheart, Nick Brody. The world, though, has a way of complicating things.
Living… in a strange imitation of domestic life. Now that her husband, Nick, is home after being in a prison camp in Afghanistan for eight years, Jessica is finding it hard to adjust to his needs. She understands that his return may be strange for him, and she's trying to live the life that she thinks he wants.
Profession… housewife. Jessica had to struggle to pay the bills while her husband was missing, but now she has a bit more time on her hands. Being Nick Brody's wife will prove to be a full-time job.
Relationship Status… married to Nick, but in love with someone else. Jess, who had (understandably) believed that Nick was almost certainly dead, got very close with his best friend, Mike, in the eight years since Nick was missing.
Challenge… understanding her husband. Jessica genuinely wants her family to be happy, but there's something about Nick that doesn't seem right. He's not the normal, happy man that he used to be. As she yells at him, "You barely sleep, you turn your back on your friends, you scare your children!"
Personality… headstrong and loyal. Jess is willing to give life with Nick another shot, even though she'd found happiness with Mike in his absence. Jess wants to trust her husband and help him return to a normal life in American suburbia, but he's making it difficult by lying to her. "I don't want to hear another lie," she tells him. There was a time when the safe return of her husband was all that she could've dreamed of. But now that it's actually happened, it's much more problematic than she could've imagined.
OBS.: "In Memoriam" (originally titled "The Motherfucker with the Turban") is the eleventh episode of the second season of the American television drama series Homeland, and the 23rd episode overall.
The importance of this moment, of Jessica saying her name–Carrie–cannot be overstated. Think of all the times they ever talked about her before. They danced around it. She was "the nut," "that CIA woman," "the bitch" he fucked.
But Jess brings her here, in this moment. When Jessica says, "She accepts it," she might as well be referring to herself. Accepting the end of her marriage, that the father of her children will be leaving them. That everything she had worked so hard to be–this great American story–was a lie, imperfect.
The comparison between Carrie and Jess is an easy one way to make, if entirely unfair. It's easy to assume that Carrie is the bigger person for being able to harbor all of Brody's damage, to take in his soul, the black and tarred bits, too. Carrie would never throw Brody's Quran on the ground, Carrie would never freak out when he has nightmares, Carrie would never…
Jessica doesn't want to know everything about Brody–it's easier not to, after all, and she's tired of fighting. Carrie on the other hand wants and needs to know everything.
But they both love Brody. They love him the only way they know how. For Jess it's not enough. Not enough for her, not enough for Brody. Ironically, for Carrie it's probably too much. She loves him too much, so much it overwhelms her, clouds her judgment, comes to inhabit her very being. She only knows two gears, reflective of her illness: an extreme high or a dangerous low.
They both love Brody the only way they know how.
And Brody loves them both, too. He loves Jessica the way a man loves the mother of his children, the way a first love stays with you forever. And that's not enough for Jessica. It can never be enough.
Carrie accepts him, knows everything, and she still picks him. For eight years Brody was told he was less than, nothing, no one loved him and was coming to find him, to bring him home. No one was choosing him. His worst fears are confirmed when he arrives home and finds another man in his own house, taking on his role as father and husband.
It's no wonder his face drops when Carrie, just days later, tells him, "I want to be with you." Because she was choosing him, she was starting over with him, for him. Despite the vest, despite the lies, despite everything. She had chosen him. She must love him a lot.
Quotes
"It's pizza night!" — Jessica Brody, everyone
Trivia
Did you know that the role of Jessica was recast after the pilot was shot? Laura Fraser was initially cast and on top is a rare (as in, the only photo I've ever seen of the footage) photo of the Brody family as it first was.
Says Alex Gansa…
"The original woman was Laura Fraser, who was lovely. She was also English, Laura Fraser, and she played the role in a very soulful, kind of wounded way, and it was very effective, but it was very heavy. And because Brody was heavy, and Claire was heavy, and Saul was heavy, there was a sense that we needed sort of a more vibrant, sexual personality, which is why we ultimately cast the role with Morena."
Morena Baccarin says many fans told her they were rooting for Jess and Brody to be together (source: Homeland Revealed by Matthew Hurwitz. 2014. Chronicle Books. Page 34).

Notes
Laura Fraser was originally cast to play Jessica. Morena Bacacrin replaced her shortly after the cancellation of the ABC series V.(Deadline.com)
Jessica often referred to her husband as "Brody" on the show.
External links