Lynne Reed (– 2011) was a CIA asset and senior-level escort in Prince Farid bin Abbud's posse.
Biography
Early life
She was raised in Sandusky, Ohio. After joining the Prince's harem, Reed was recruited as an informant by Carrie Mathison while both were in Bahrain.
She observes Farid meeting with Abu Nazir and reports it to Carrie, leading to a CIA investigation. Reed shows Mathison a video of Prince Abbud and Abu Nazir greeting each other, which Reed has recorded secretly on her cell phone. It represents the first confirmed sighting of Nazir in seven years and sets off an investigation into the Prince.
Reed is highly concerned for her safety and asks Mathison for a security detail. Carrie asks deputy director David Estes to assign a fire team, but he declines. Mathison lies to Reed and claims the protection is in place. Sasks Reed to download the contents of the Prince's BlackBerry to an SD Card, and Reed secretly does so, barely evading detection. The Prince gives her a necklace composed of large diamonds. Reed meets Mathison to drop the card, and indicates that she will no longer inform on the Prince.
Later, the Prince hosts a party at a local night club to welcome his newly-acquired consorts. Prince Abbud's Chief of Staff pulls Reed aside and tells her that the Prince has assigned her to escort an incoming businessman that evening and that a car would be there to pick her up. Reed considers this request extremely unusual and excuses herself to the restroom, where she calls Mathison and asks for confirmation that her government-provided protection is in place. Mathison again affirms the protection, and Reed exits out the back door of the club to receive her car.
Death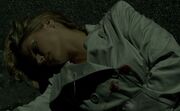 The driver walks Reed to the door of the town car, and shoots her twice through the chest point blank before she enters. He then takes her diamond necklace and speeds away. Mathison arrives minutes after and finds Reed's dead body in the alley behind the club. Her body is later seen in the morgue as Mathison meets Lynne's parents.
Behind the Scenes
Appearances
Season 1
"Pilot"
Grace
Clean Skin
"Semper I"
"Blind Spot"
"The Good Soldier"
"The Weekend"
"Achilles Heel"
"Crossfire"
"Representative Brody"
"The Vest"
"Marine One"