'Homeland' Profile: Nick Brody
Play Sound
Nick Brody
Name:
Nicholas Brody
Status:
Deceased
Age:
38 (at death)
Date of birth:
February 3, 1975
Birthplace:
Virginia,
United States of America
Date of death:
2013
'Deathplace:
Iran
Cause of death:
Hanged
Nationality:
American
Alias(es):
Brody, Nick, Sgt. Brody, Marine One, Wild Brody
Affiliation:
USMC
United States Congress
Profession:
Gunnery Sergeant, USMC


Prisoner of war
Congressman
Triple agent;
Fugitive Terrorist;
Hitman CIA's.

Mother:
(d. 2007)
Marital status:
Married
Spouse(s):
wife:
Jessica Brody
Significant other(s):
lovers::
Carrie Mathison
Children:
with Jessica Brody:
Dana Brody
Chris Brody
with Carrie Mathison:
Franny Mathison
Played by:
Damian Lewis
Season(s):
1, 2, 3, 4
Episodes:
30 appearances
First episode:
"Pilot"
Last episode:
"Redux" (hallucination)
I'm an American.

—Nick Brody
Congressman Nicholas 'Marine One' Brody (February 3, 1975 – 2013) was an American former prisoner of war. Born in the Mojave Desert, when his father was stationed in the MCAGCC, Gunnery Sergeant Nicholas Brody was a United States Marine Corps Force Reconnaissance Scout Sniper deployed during the Iraq War. On May 19, 2003, both Brody and a fellow Scout Sniper, Thomas Walker (Chris Chalk), were captured near the Syrian border by forces loyal to Saddam Hussein. He was held captive for eight years. After his return home, he was suspected of being turned against his United States country and assumed to be a terrorist.
A CIA officer by the name of Carrie Mathison was quick to attempt surveillance on Sergeant Brody, despite his warm welcome home to his wife and children. He was, in fact, on a mission from Abu Nazir to avenge the death of Nazir's son, Issa, who was killed in a drone attack ordered by Vice President William Walden.
After his return, Brody eventually reached the rank of Gunnery Sergeant and was soon of an interest of Vice President Walden to run for Congress, capitalizing as his status of American Hero.
Brody failed his mission after being talked down by his daughter, but he conceived a new plan to become close to Vice President Walden and become a great influence to high political powers in the United States.
Six months after his mission's failure, Brody had been elected to Congress. Vice President Walden soon informed Brody of his intention to run for President of the United States and his intention to have Brody as his running mate, as he saw him as the future of the party. Months into his first term, Brody's true allegiances were discovered by the CIA, who convinced him to work for the agency as a double agent, a position he maintained for the rest of his life.
About Him
Grew up… as an average American citizen in Virginia. After high school, Brody married his longtime girlfriend Jessica and they had two children. They lived a quiet, normal life until 2003, when Brody joined the U.S. Marine Corps and was shipped off to Iraq.
Living… something resembling a normal life, again. Brody was found somewhere deep inside a terrorist base in Afghanistan, barely conscious, eight years after his deployment. He was rescued and returned home to suburban Virginia, and is now trying to become the "regular" American that he once was. But life at home is difficult: "I'm more alone than I was in the bottom of that hole in Iraq."
Profession… Sergeant in the United States Marine Corps. Brody, along with his friend Mike, joined up before the war in Iraq. As the motto of the Marine Corps puts it, "Once a Marine, always a Marine."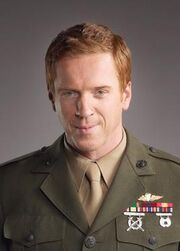 Relationship Status… married, with children. Even though Brody hasn't seen his wife in eight years, or even met his young daugther Dana, his family does its best to embrace him and welcome him home. Luckily, Brody's friend Mike has been looking after his wife, Jessica. Though Brody can only wonder whether or not he's been looking after her a bit too much.
Challenge… returning to normal life back home. This is made even more difficult by the amount of attention he's been getting in the press and, oddly, by the C.I.A. An agent named Carrie Mathison seems to suspect something. Did all the time he spent as a captive of terrorists turn him into one?
Personality… stoic, reserved and, most of all, obedient. Brody is a true Marine. Being in terrorist custody for eight years has damaged him, but it's unclear how he's been changed and to what extent.
would it be possible to use this photo in place of that photo of Damian Bald?
Biography
Early life
Brody met his future wife, Jessica in high school and the two began dating (see Saul's Game). They shared their love and showed it in ways including putting a padlock around a fence with their initials on it, believing that they'd be together forever. Eventually, they were married and had two children. (Clean Skin)
Military service
Recruitment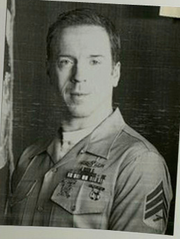 At some point in, or before 2003, Nick Brody joined the United States Marine Corps. His friend, Mike Faber joined at the same time or around the same time as Nick.
Brody bid farewell to Jessica before leaving to begin his military service, with Mike in the bus behind him, rushing him. (Semper I)
Art Mission
According to Brody, during his service, Brody was assigned, along with his squad, to overtake an enemy base and reclaim a prized bust of Saddam, but after fighting their way to it, they discovered that it had been replaced with a Mr. Potato Head toy. (Achilles Heel)
Capture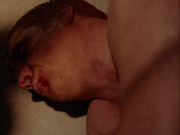 On May 19, 2003, Sergeant Nick Brody, a Marine Scout Sniper and his partner, Corporal Thomas Walker, were captured in Iraq near the Syrian border by forces loyal to Saddam Hussein. Those forces then sold him and Walker to an Al Qaeda commander known as Abu Nazir. Brody was eventually taken to a secret facility outside Damascus where he was held for most of the eight years. During his captivity, he is badly mistreated, and Abu Nazir apparently acted toward him with kindness to gain his trust. Eventually, he's seen beating his partner, Walker, at the direction of Nazir. (Pilot)
Teacher
In 2008, Nazir took Brody into his home, trimmed his hair and cut his beard. He then introduced Brody to his son, Issa and asked him to teach him English. Brody was hesitant as he had no teaching experience. (Crossfire)
For Issa's 10th birthday, Brody made him a slingshot, as he was scared of the crows around his residence. (The Smile)
One day, in 2009 after seeing Issa off to school, Brody heard and felt the shakes of an explosion. He quickly set out to Issa's school to find him. After a short search, Brody found Issa under a pile of rubble, dead.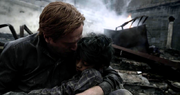 He lifted Issa's body into his arms and cradled him. During Brody's wrapping of Issa's body, Abu entered and saw his son. He said his goodbyes to him as Brody watched. The two finished wrapping Issa's body together and prayed over it.
Brody and Nazir watched William Walden announce that the explosion was a drone attack by the United States and that no children were harmed. (Crossfire)
Rescue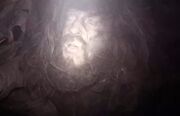 Eight months before his rescue, Nick was transported from the location outside Damascus to Afghanistan. There he is found by US Delta Force operators inside a terrorist safe haven in the Korangal Valley and rescued. With unkempt beard and hair, he struggles to declare "I'm an American." It comes as a surprise that there were American POWs from the Iraq or Afghanistan wars
Brody was taken to Ramstein Air Force Base in Germany, where he was cleaned up, debriefed, and given a psych evaluation. From there he phoned his wife, Jessica, who unbeknownst to him was in bed with his old friend Mike Faber at the time. (Pilot)
Homecoming
Carrie Mathison, an operations officer for the Central Intelligence Agency, had previously received information that an American POW had been turned. With the discovery of Nick, she believes he is the POW in question and that he plans to carry out Abu Nazir's attack against the United States.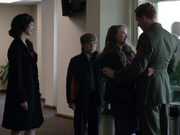 He is flown back to the US, where he is reunited with his wife, Jessica (Morena Baccarin), and his children, Dana (Morgan Saylor) and Chris (Jackson Pace) with a warm welcome from his community. He also meets Vice President Walden during a press conference at Andrews Air Force Base. He made a televised address to a crowd of Marines at Andrews Air Force Base. Brody returned home to his wife and kids.
He made another televised appearance when he returned home. In both videos, Carrie noted that he tapped his fingers in an odd, repeated pattern, suspecting that it was an encoded message.
During his debriefing, Brody finds himself interrogated by CIA officer Carrie Mathison (Claire Danes), who had been told by an informant that an American POW had been turned by al-Qaeda. However, the interrogation is stopped by Carrie's superior, Counterterrorism Center director David Estes (David Harewood). Upon his follow-up debriefing with the CIA, where he met with Tom Walker's widow, Helen.
Even so, Carrie sets up a slipshod intelligence operation and bugs Brody's house. (Pilot)
Press and Interviews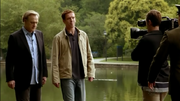 Brody first came to the public's attention in 2003, when he and a fellow Marine were captured by Ba'athist forces while serving in the Iraq War. Eventually Nick gave in and began to give interviews to the press, revealing more details about his captivity.
As he settles back into civilian life, Brody struggles with posttraumatic stress disorder and has nightmares about his captivity in Damascus, all of which takes a toll on his family. The situation is worsened when he finds out that Jessica and Mike Faber, his best friend and fellow Marine, had been in a relationship while he was in captivity. Brody initially shuns the spotlight, physically assaulting a reporter who enters his backyard. He also rebuffs a suggestion from Faber that he re-enlist in the Marine Corps and seek a promotion.
However, Brody eventually changes his mind and addresses the press in full uniform outside of his house. (Grace)
Carrie watches Brody's TV appearances and notices that he taps his fingers in a repeated pattern, believing that he is giving a coded message. This observation convinces her CIA mentor, Saul Berenson (Mandy Patinkin), to help her obtain a FISA warrant for Brody's home. (Clean Skin)
Carrie continues surveilling Brody after the warrant expires and breaches CIA protocol by approaching him at a support group for veterans. They bond immediately over their shared experiences in the Middle East. (Semper I)
The CIA detain Afsal Hamid, the lone survivor of the raid on the al-Qaeda compound where Brody was rescued. Carrie summons Brody to consult on Hamid's interrogation; Brody recognizes Hamid as his guard while in captivity. Hamid gives up an email address belonging to a university where Raqim Faisel is employed. With this, the CIA are soon able to locate Raqim's home address, but find it vacated upon arrival. Brody meets with Estes and demands an opportunity to confront Hamid, his torturer, face-to-face. Hamid provokes Brody into physically attacking him, and is later found to have killed himself in his cell using a razor blade. Carrie suspects that Brody slipped the blade to Hamid during their altercation, but Saul is unable to report these findings up the chain of command given the lack of evidence. (Blind Spot)
Mike's Betrayal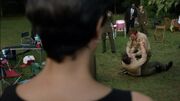 You were my friend.
Brody eventually discovered that Mike had been sleeping with Jessica and brutally attacked him, leaving him bloodied and his own fist bruised. He left the party in anger and headed to a bar.
Closer to Carrie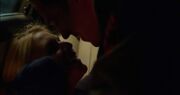 At the bar, Brody called Carrie to inform her will not be able to take the polygraph the morning after. Carrie decides to go meet with him in order to talk him into it and after many drinks, the two walked to Carrie's car. After a few jokes, the two kissed and made sex in the backseat.
Polygraph test
The next morning, Brody was given a polygraph test. He passed, but Carrie doubted his truthfulness. After leaving, Brody pulled up alongside her and asked her to get into his car. She accepted and the two went away together. (The Good Soldier)
The two eventually arrived at her cabin, where eventually embark on a sexual relationship. They expressed more intimate and sober feelings for each other. When Mathison and Nicholas become intimate, she is not frightened by the scars on her body and he has love with her, firmly and vigorously, making them both very happy. During the night, Brody has a nightmare. He wakes up screaming "That's it! No!" Carrie hears this and tries to calm him down. The next morning, Brody considers leaving Jessica for Carrie.
Carrie's Betrayal
After their long weekend together, Nick became suspicious of Carrie when she revealed her knowledge of her favorite tea, Yorkshire Gold. He suspects she has been watching him and eventually discovers Carrie's gun. He confronted her and she revealed to him that she suspected he had turned against America by Abu Nazir.
After giving her the gun and letting her question him about anything she wanted, he was angry that she still didn't believe in his innocence.
As he was leaving, Carrie received a phone call from Saul that revealed that Thomas Walker is alive and has also been turned. Carrie tried to fix the situation by informing Brody that she was wrong, Brody angrily rejects Carrie and goes back to her family, leaving her sad in the cabin. (The Weekend)

Political Interest
Brody and his family was invited to a party of notable people where he was treated with extreme kindness by the guests. The host expressed her interested in him replacing a disgraced Congressman. (Achilles Heel)
Mind Game
Not long after the party, Carrie revealed to Brody that Tom Walker was still alive. Brody waited in the home of one of Abu Nazir's trusted men and informed him that he was done with Nazir for lying to him, revealing that he had in fact been tricked into working for Nazir. He Tells His Saudi Contact, Monsour Al-Zahrani (Ramsey Faragallah), To Tell Nazir That He Will Not Go Through Their Planned Attack. (Achilles Heel)
New Objective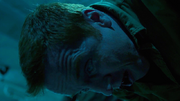 Not long after, he was beaten down and captured by Abu Nazir's men in the grocery store parking garage. After awakening in a room, he communicated to Nazir via video conference. Feared dead far from at home, Brody was sold to al-Qaeda leader Abu Nazir, who converted him to the Muslim faith. They discussed the death of Issa and Brody's allegiance.
Nazir ended Brody's torture in 2008 and invited him into his home, asking him to teach his son Issa English. Brody soon grew to love the boy as his own son. In 2009, however, Issa was killed in a drone strike while attending school. Brody helped Nazir bury Issa and joined him in reciting an Islamic prayer over the child's grave. Shortly thereafter, Brody watched an interview with Vice President William Walden (Jamey Sheridan), who falsely claimed that no children were killed in the drone strike. Brody swore revenge on Walden and agreed to kill him in a suicide attack. Nazir persuaded him to become an al-Qaeda operative.
After Nazir ended the call, Brody was briefed by one of his men on his objective. Brody was to be offered to run for a political office by the Vice President, an offer which Nazir wanted him to accept.
After returning home, Jessica informed Brody of a message from the Vice President's office left on the answering machine. (Crossfire)
Congress Offer
Not long after the message was left, Vice President Walden traveled to Brody's home to personally offer him the chance to run for United States Congress. Brody told him that he'd have to talk about that to Jessica before deciding anything. (Representative Brody)
Mending Friendship
You did nothing wrong.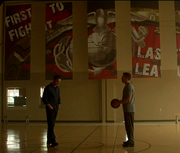 Brody talked to Jessica about the offer for a role in Congress and after she told him to not run, he decided to see Mike for help. Brody forgave Mike and thanked him for taking care of Jessica and the kids, telling him he did nothing wrong in his affair. Brody asked Mike to convince Jessica to let him run for Congress and left.
Mike visited Jessica and attempted to convince her of Brody's cause, but she realized that Brody had put him up to it and ended the conversation. (Representative Brody)
Political Preparation
Brody visited Carrie to discuss the weekend they spent together. He made sure that she hadn't told anyone about it and asked her to promise not to, which she did. Afterwards, he bid farewell to her and left.
She was upset about his reasoning for visiting her, as she had expected something more. After throwing out the wine she had prepared, she began to cry.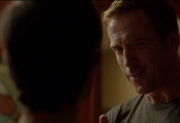 Later, at home after the terrorist bombing that nearly killed Carrie, Brody conversed briefly with Jessica, who she revealed that herself and their children had agreed that he should run. (Representative Brody)
Mission Preparation
Brody eventually made plans to take his family to Gettysburg on a family trip. The true reason, however, for Brody to journey there, was to retrieve a suicide vest from a tailor under the employ of Nazir. Making excuses to meet with the tailor, Brody was eventually able to try the vest on and learn how it worked.
After receiving the vest, Brody placed it in the trunk of his vehicle, but was caught by Dana. As an excuse, he informed her that it was a gift for Jessica. When the family returned home, Brody was quick to hide the vest in his room, assuming no one would go looking for it. (The Vest)
Mission Failed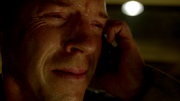 In a plot masterminded by Nazir, Brody set himself up to be rescued by American forces. He returned to the United States a war hero, but worked secretly on a mission to gain the trust of Vice President William Walden, whom he planned to assassinate – He Will  Go  The Planned Attack: A suicide bombing at the State Department Policy Summit That He and Walden Will Be In Work.
As Walker opens fire on the summit, Brody and his targets are sent to a safe room inside the State Department. As Brody prepares to detonate the vest, however, he finds that it does not work. After he fixes it in a restroom, and as Brody was about to attempt detonation for a second time, Dana calls and asks him to promise he will come home; unbeknownst to Brody, Carrie had shown up at his house and told Dana what he was about to do.
After a brief conversation, Dana made Brody promise her to come home. After many tears and emotion, he agreed and gave his word. Brody abandoned this plan at the urging of his daughter. The door was opened and everyone was allowed to leave, securing Brody's failure. (Marine One)
Brody's Plan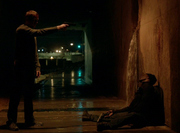 After his failure, Brody went to retrieve his confession video. After arriving, he noticed it had been taken and a second chalk mark had been drawn. He walked to a small drainage duct where he ran into Thomas Walker - the Marine Two - for the first time in years. Walker confronted him about failing his mission. Brody gave the excuse that the vest wouldn't detonate. Walker then revealed that Nazir was listening. Nazir then asked to speak with Brody.
Nazir asked Brody about the failure to which Brody stuck to his lie: the bomb did not explode due to a defect. He tells Nazir via phone that he plans to run for a seat in Congress, which will allow him to influence the U.S. military as a double agent. And he becomes a close friend of Vice President Walden to be able to influence decisions in higher office of the United States.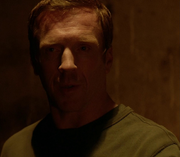 Nazir agreed and asked Brody to kill Walker to prove his loyalty. Nazir told Brody to tell Walker that he wanted to speak with him privately. Brody reached the phone out to Walker, who prepared to speak to Nazir. Brody then reached down and picked up the phone, informing Abu Nazir that he killed Walker to reassure Nazir of his loyalty. He then lowered the phone and looked back down at the corpse of Walker, staring at the lifeless friend before him. (Marine One)
Family Gratitude
Brody: Thank you.
Jess: For what?
Brody: Everything.

—Nick and Jessica Brody share a moment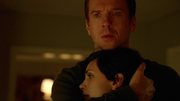 After returning home and at rest after the events of the previous week, Brody and Jessica spent time together in the kitchen where Brody expressed a sense of heightened appreciation for having his family. He thanked Jessica as a sign of his appreciation for having her and held her in his arms.
He then tells Carrie, who has been fired from the CIA, to leave him and his family alone.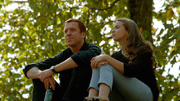 Two days later, while working on the roof of the house, Dana visited him and the two began a conversation, spending more time together as father and daughter. After talking, Dana sat down and the two stared off into the distance together. (Marine One)
Congressman Brody
Six months after having killed Walker, Brody had been elected for Congress.
Vice Presidential interest
At a meeting with Vice President Walden, Walden announced his intention to have Nick as his running mate when he runs for President, with Brody at first being shocked and then showing his gratitude for the offer. (The Smile)
Loyalty mission
Brody later had a meeting with an ally of Abu Nazir by the name of Roya Hammad. At the meeting, she informed Brody of her knowledge of Issa to prove his alliance with Nazir and informed him that Nazir wanted Brody to steal information from David Estes on potential targets for Nazir to attack. (The Smile)
Struggles with Jessica
Returning home from work, Brody was approached by Jessica with news that Dana told her fellow students that Brody was a Muslim. Although Dana informed them that the kids believed it to be a joke, Jessica was still angry and asked why she would say such a lie. Brody interrupted Jessica, informing her that he is a Muslim.
Angered that she had been lied to by Brody, she went to the garage in search for proof of his religion and soon found his Qur'an. Angered that he shares his religion with those that held him captive for years, she throws his Quran on the floor. He quickly picks it up, only to anger her more. (The Smile)
Meeting with Estes
Brody was hesitant at first, but during the meeting, David was forced to leave his office to meet with Roya. Brody again hesitated in Estes' office, but found the safe and opened it with the code he had received from Roya. Brody wrote the target information in a black book he had taken with him before sitting back in his seat. (The Smile)
Bonding with Dana
When Dana admits at school that her father is a Muslim, an angered Jessica confronts Brody and throws his Quran to the floor. One night, after his Qur'an was thrown on the floor by Jessica, Brody was outside in the back yard with it. Dana arrived and asked him what he was doing, to which he quickly replied that it had been desecrated and that he was going to bury it out of respect. Dana then began helping dig the hole to bury it in. (The Smile)
Political appearances
In 2012, Brody won a special election for the Virginia congressional seat vacated by congressman Richard Johnson. Once in office, Brody posed as a loyal Walden supporter, but used his position inside the government to assist Nazir in his plots against the United States.
Confidential Meetings
Brody soon appeared at various fundraisers that featured Vice President Walden and was soon invited to a secret meeting with the Secretary of Defense, a former Marine to convince him of the urgency to provide better bombs for Israel to help fight Iran's nuclear facilities.
On the day of the meeting, as Brody was ready to leave his office, Mike Faber entered before he could leave. Brody informed him that he was on his way to the Pentagon and offered Mike a ride, where Mike expressed his suspicious regarding the death of Tom Walker. Brody informed Mike that he would investigate the matter, but as he was Tom's killer, he likely had no intention of truly keeping to his word.
At the Pentagon, before their meeting with the Secretary of Defense, Vice President Walden invited Brody into a room to watch an operation that was intended to bring about the assassination of Abu Nazir. As soon as Nazir arrived, Brody sent a secret text message, informing him of the danger. Nazir escaped before snipers could eliminate him as Brody watched, tense from the incident. (Beirut is Back)
Return to Gettysburg
One day at his home, after kissing with his wife and being caught by Dana and Xander, Brody received a phone call. He took the call outside and soon heard the voice of Roya on the other line. She informed him that there was a problem as the Gettysburg tailor was discovered by the CIA.
Roya informed Brody that he was the only one of Nazir's people that the tailor had met and asked him to move the tailor to a safe house. Angered at first and revealing that he had a fundraising appearance to make, she assured him that he would make it there on time. He reluctantly accepted the task.
He journeyed to Gettysburg and arrived at the tailor's shop, entering through the back. The tailor was shocked to see him, but Brody quickly informed him that he had been compromised and that they had to move fast so that Brody can get him to a safe house before the CIA arrests him.
On the way to the safe house, the tailor began to worry that Brody was ordered to kill him. After many occurrences including a flat tire and the tailor having Brody purchase tobacco that gave him a chance to run, Brody followed him into a wooded area.
After a brief confrontation where the tailor hit Brody on the head with a rock, Brody tackled the tailor and was shocked to soon discover that the tailor had landed on a protruding branch on a log, impaling him. During this time, Jessica had been attempting to call him.
As Brody tended to the tailor's wound, Jessica called, again, with Brody answering. After a brief struggle to keep the tailor quiet and keep Jessica from hearing him, Brody snapped the tailor's neck, killing him. He then told Jessica that he'd see her later, before hanging up.
Brody buried the body of the tailor in the woods and left to a car wash where he rinsed the blood off of himself. He drove home to find Jessica and Mike in the front yard, about to enter the house. After a brief conversation, Mike left and Brody entered the house with Jessica.
Jessica informed Brody that she knew he was lying to her after he had told her excuses regarding what had happened that day. She told him that he'd better stop lying, or she'd separate from him. Jessica went to her room, with Dana soon exiting hers and seeing Brody, before turning back and entering her room, again. (State of Independence)
Reunion with Carrie
Later, Dana helps Brody bury the desecrated Quran. Meanwhile, Berenson finds Brody's suicide tape in Beirut and gives it to Estes. Carrie is reinstated, and an operation is set up to monitor Brody's actions.
Arrest
Carrie received a call from Congressman Brody, asking her to meet him at a hotel bar for a drink.
She quickly accepted and met with him. After a conversation and a drink with Brody, he left to his hotel room. Peter Quinn and Saul asked Carrie to wrap it up and return to the surveillance headquarters, but she insisted that her cover was finished and that Brody had noticed that she was after him.
She went to Brody's room and told him that they had little time together, revealing that she knew he was working for Abu Nazir. After a brief confrontation with Carrie, Brody was arrested by the surveillance team. (New Car Smell)
Interrogation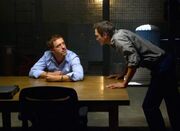 After his arrest, Brody was interrogated by Quinn, Saul and Carrie. During the ensuing interrogation, new team leader Peter Quinn (Rupert Friend) stabs Brody in the hand. Carrie takes over, and convinces Brody to become a triple agent for the CIA. Brody uses this as an excuse for his strange behavior to Jessica. (Q&A)
Brody informs the team that the Gettysburg tailor is dead; Carrie and Quinn send a team to the shop to pull the surveillance and investigate it for forensics. However, Nazir's men, led by Roya's contact, ambush the shop, killing several officers and wounding Quinn; they extract a large case from the shop. Brody denies his knowledge of the ambush to Carrie. (A Gettysburg Address)
Brody takes Dana to the police department to report it. Carrie stops him, stating it will affect his cover.  (The Clearing)
Under pressure, Brody meets Hammad and says he wants out of the plot. During a tryst sexual at a hotel, Carrie convinces Brody to return to Nazir so they can prevent his next attack. During a rendezvous with Hammad the next morning, Brody is taken away in a helicopter. In a warehouse, he is confronted by Nazir and reaffirms his loyalty as part of his cover. (I'll Fly Away)
Brody makes good on his pledge to help stop Nazir's attack. (Two Hats)
Later, he receives a call from Nazir, who is holding Carrie hostage; he threatens to kill her unless Brody helps him kill Walden. Brody goes to Walden's office and texts Nazir the serial number of Walden's pacemaker so Nazir can remotely tamper with it. Brody then demands that Nazir let Carrie go, which he does. As Brody meets with Walden and tells him he cannot accept a place on the ticket, Nazir causes Walden's pacemaker to malfunction. Brody refuses to call an ambulance and taunts Walden as he dies. (Broken Hearts)
That night, after learning that Nazir has been killed, Brody leaves Jessica and reunites with Carrie. (In Memoriam)
Dana finds Brody's explosive vest and asks him if he had been planning to use it; he replies that he changed his mind. He goes to Walden's funeral with Carrie, who tells him that she has decided to leave the CIA and be with him. Just then, however, a bomb hidden in Brody's car detonates and kills 219 of the funeral's attendees, including Walden's family and many CIA agents and government officials. Brody realizes that Nazir had planned the attack in advance of his own death and reassures Carrie that he had nothing to do with it. As she smuggles him into Canada, al-Qaeda airs his suicide tape, and he is branded as the mastermind of the attack. At the border, Brody and Carrie tearfully part ways, with Carrie promising to clear his name. (The Choice)
Manhunt
After the Langley bombing, Brody becomes one of the most wanted fugitives in the world. In Caracas, Venezuela, he is shot twice and nearly dies before being found by a group of drug dealers. They take him to a pharmacy, where Dr. Graham (Erik Dellums), a clandestine surgeon, saves his life. When Brody recovers, he asks drug gang boss El Niño (Manny Pérez) why he's protecting him; El Niño replies that he knows Carrie. Eager to keep moving, Brody convinces El Niño's daughter, Esme (Martina García), to take him outside. He approaches an imam and asks for shelter in a mosque. Instead, the imam reports Brody to the police. El Niño and his men arrive and kill the incoming police force, as well as the imam and his wife. El Niño tells Brody that he will spend the rest of his life at the drugstore. Discouraged, Brody injects heroin into his arm.
Mission
Saul goes to Caracas and finds Brody in a heroin-induced stupor. Brody is taken back to the United States and weaned off the ibogaine drugs. Berenson and Carrie offer Brody a chance to redeem himself by seeking political asylum in Iran and assassinating the head of the Islamic Revolutionary Guard Corps, General Danesh Akbari (Houshang Touzie), so that CIA asset Majid Javadi (Shaun Toub) can take his place. Brody refuses, saying he wants to die. Carrie takes Brody to a motel where Dana is working as a maid, but doesn't let him see her; she says he must first atone for what he did by participating in the operation. Brody undergoes 16 days of rigorous Special Operations training until he is once again in top physical condition. The night he leaves for Tehran, Brody asks Carrie to take him to see Dana. He tells Dana he's innocent, but she replies that she never wants to see him again. As he prepares to leave, Brody promises he will survive the mission and return to Dana and Carrie.
A team of Special Ops soldiers drives Brody to the Iranian border, where they are stopped by Iraqi police; when one of the officers recognizes Brody, the soldiers are forced to open fire. Brody panics and tries to run, but team leader Azzizi (Donnie Keshawarz) calms him down. Moments later, they hit a land mine, severely injuring Azzizi and attracting enemy fire. From Langley, Saul calls off the mission, but Brody is determined to cross the border. Carrie tries to dissuade him, saying that he will die if he goes in alone; Brody replies that she will have to think of a way to get him out safely. He identifies himself to the Iranian border guards and asks for asylum as planned, and the guards take him and one of the soldiers, Turani (Jared Ward), into custody. They are met by Javadi, who kills Turani in front of a horrified Brody.
After three days of interrogation, Brody is taken to meet Akbari, secretly armed with a cyanide-filled syringe. Akbari does not get close enough for Brody to inject him, however, and has his men send Brody to Nazir's widow Nasrin (Naz Deravian) to vet his propaganda value. Over the next few days, Brody gives a series of interviews on Iranian television denouncing the United States, leaving Saul no choice but to order his death. Carrie calls Brody, warns him that he is in danger, and pleads with him to come with her. Brody refuses, however, instead going to see Akbari and telling him about the CIA's plan. Once he has Akbari's trust, Brody overpowers and suffocates him.
Brody escapes with Carrie to a safe house, where she tells him she is pregnant with his child. While thinking a CIA extraction team was on the way, Javadi's men arrive and take Brody into custody, part of a deal the CIA made with Javadi to help him advance to greater power within the Iranian government.
Death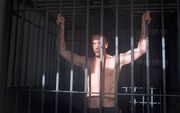 He was successful in killing his target, but was later captured and tried after the U.S. government refused to extract him from the country. Brody was sentenced to death in Iran for treason and publicly hanged by Nazir's widow. He was executed by suspended strangulation, not by a drop. He was sentenced to death by hanging and killed in a public execution. The series leaps four months ahead to show Lockhart pointedly excluding Brody from the C.I.A.'s memorial service to the 132 brave men and women who died in its service, leaving it to Carrie to scribble a temporary star in his honor on the wall.
Brody is survived by his wife Jessica and daughter Dana. He also leaves behind an unborn child (Franny) through his mistress, Carrie Mathison. His death went unrecognized by the CIA as Senator Lockhart refused to commemorate the infamous grey area that was Nick Brody. Despite Senator Lockhart's actions, Carrie defiantly drew a star on the commemorative wall to honor Brody, her fallen hero. (The Star)
Season 4
In the fourth-season episode "Redux", Brody appears in Carrie's drug-induced hallucination. She breaks down crying in his arms, and admits that she had been willing to let him die. (Redux)
Novels
Nicholas is a fictional character, who appears in the novel written by Andrew Kaplan: Carrie's Run and Saul's Game
Honorable mention
Sgt Brody's death in season three not only changed Carrie's life, but also the entire course of the show. Brody was a beloved character of Homeland, and the showrunners' audacious move to write him off left audiences with many more unanswered questions. We knew Brody as the disturbed war hero turned terrorist who struggled to find his way back, but there was so much that was left unresolved in the Brody storyline, particularly that of his family and his innocence from the crimes he was being accused of before his death.
Ultimately, his death in season three left viewers shocked, as they knew his story was not yet complete. For someone who continually attempted to do the right thing and serve his country, Brody deserved more than being routinely executed in a place far from home.
Brody leaves behind his estranged family (Dana and Jessica), his infant daughter (Franny) and Carrie, the love of your life.  His daughter is being raised by Carrie's sister, as she moves to Kabul to fill her position as the new station chief. Since Brody's death in Tehran, communication between the enemy states has commenced due to Javadi's influence in the government.  The Iranians have allowed international access to their nuclear facilities, a huge leap towards Detente in the Middle East.
Reviews
He's both a radicalized Muslim and a member of what's constantly framed as the standard white American family; he aspires both toward a better life for his family and for revenge against the United States. Nicholas Brody, of "Homeland," is an entirely new sort of potential terrorist on-screen -- one who's humanized, and one who exists outside the sort of enemy-state narratives American viewers had grown so comfortable with. - DANIEL D'ADDARIO
Quotes
To the last spoken words between the two, with Carrie begging him over the phone: "Can you just stay here? For a few more seconds?" and Brody responding with only the very human sound of him breathing, being present.
Trivia
An international fugitive after the bombing, Brody traveled to Venezuela, where he was again captured by the CIA and ordered to assassinate the head of the Iranian Revolutionary Guard. To fulfill his mission, Brody infiltrated Iran under cover of political asylum, and let himself be used as a propaganda tool by the Iranian government.
From here both the CIA (like Carrie, Saul, Dar, Lockart, Estes) and al-Qaeda used Brody as an agent to further their goals, with the congressman caught in the middle. Brody assisted Nazir in assassinating Walden, only to be framed by al-Qaeda for the bombing at CIA headquarters that killed 219 people, among them the Secretary of Defense and the Secretary of Homeland Security.
From here, both the CIA (like Carrie, Saul, Dar, Lockart, Estes) and al-Qaeda (Abu Nazir) and the US (like Walden, POTUS) and Iran (like Akbari, Javadi) used Brody as a agent to further their goals, with the prisoner of war trapped in the middle. Brody helped Nazir assassinate Walden, only to be framed by al-Qaeda for the bombing of CIA headquarters that killed 219 people, including the Secretary of Defense and the Secretary of Homeland Security. While the CIA and the US betrayed and abandoned Nicholas after using he to eliminate Akbari in order to place Javadi.
Former Congressman Nicholas Brody, a Marine turned politician whose uncertain loyalty in the War on Terror was the focus of several geopolitical incidents, died in a public hanging in Iran. He was 38 years old.
Mistakes
The lack of technical precision. Why does Brody wear the rank of Artillery Sergeant on his greens but wear Sergeant stripes on his blue uniform? By the way, marines never shorten their ranks to just sergeant if they are E-6 or above!!! As a 36-year-old Marine, carelessness in the program is offensive.
References
Season 5: All About Allison
Season 6: Sock Puppets
Season 7: Useful Idiot
Season 8: Prisoners of War

Behind the Scenes
Appearances
Season 4
"The Drone Queen"
"Trylon and Perisphere"
"Shalwar Kameez"
"Iron in the Fire"
"About a Boy"
"From A. to B. and Back Again"
Redux
"Halfway to a Donut"
"There's Something Else Going On"
"13 Hours in Islamabad"
"Krieg Nicht Lieb"
"Long Time Coming"
Background information and notes
Originally, the character's name was going to be Scott Brody.
External links