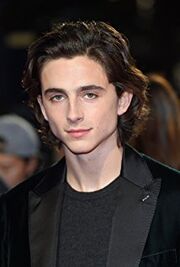 Timothée Chalamet is a French-American actor who portrayed Finn Walden in Season 2 of Homeland. 
Biography
Chalamet was born on December 27, 1995 in New York City to American born Nicole Chalamet, a real estate broker and former Broadway performer and French-born Marc Chalamet, a UNICEF editor. His older sister, Pauline, resides in Paris. His uncle Rodman Flender and aunt Amy Lippman both work in the entertainment industry as a filmmaker and television producer and writer respectively.
He gained a love of acting early in life when he starred in several commercials before starring on the New York theater scene. After high school, he attended a performing arts school in LaGuardia, which he graduated from in 2013. His future Homeland co-star Claire Danes, attended the same school but dropped out before graduating.
After several minor roles on television shows, on stage and in movies, he came to international attention with his appearance in the big screen adaptation of André Aciman's novel Call Me by Your Name, for which he received a nomination for the Academy Award for Best Actor in a Leading Role. He also starred alongside Irish actress Saoirse Ronan in Greta Gerwig's Lady Bird, which was also Academy Award nominated.
Filmography
Film:
Sweet Tooth Samuel
Clown Clown Boy Short
Men, Women & Children
Spinners
Interstellar
Worst Friends
One and Two
The Adderall Diaries
Love the Coopers
Miss Stevens
Call Me by Your Name
Hot Summer Nights
Lady Bird
Hostiles
Beautiful Boy
A Rainy Day in New York
Television:
Law & Order
Loving Leah Young
Royal Pains
Homeland
Trooper
Stage: