'Homeland' Profile: Yevgeny Gromov
Play Sound
"KILL SAUL" - YEVGENY GROMOV
Lieutenant Colonel Yevgeny Gromov is a Russian GRU Senior Operations Officer. Yevgeny is a powerful Russian intelligence officer who engineered the downfall of U.S. President Keane and oversaw Carrie's capture, captivity and interrogation in Russia.
Timeline
Gromov came of age as the Soviet Union was collapsing.
His brother died of TB in a Boris Yeltsin hospital when he was a teenager, devastating him and his parents. He mentions this in "Species Jump."
Gromov met Simone in Paris, where they both (??) attended university and they were together for at least 11 years.
Gromov wrote a novel as a brooding young adult but it was never published. In the novel he describes summers at a dacha not unlike the one we see in "All In."
The unpublished novel is also in Clarity. The Moscow CIA station chef tells Saul: "Start by sending a team to Sergiyev Posad…Yevgeny goes on & on about it in an unpublished novel he wrote at university. Describes an idyllic summer there at a baronial dacha on the river…In the novel, a rich uncle on his mother's side owns the place."
Biography
Yevgeny Gromov is a lieutenant colonel in the GRU, Russia's intelligence directorate. He is notorious for conducting disinformation campaigns within governments across the world, the latest being a vast conspiracy to undermine President Keane.
Yevgeny is discovered to be employing a network of sock puppets on Twitter as well as handling several moles in proximity to the U.S. government - these include FBI agent Dante Allen (who is murdered by Yevgeny for being a risk as he did with Clayton and Ivan Krupin), as well as Simone Martin, Yevgeny's lover who he extracts from federal witness protection back to Moscow (Simone was almost murdered by Gromov when she became a risk). Saul and Carrie eventually hatch an operation to exfiltrate Simone from Russia so that she can testify in Congress; Carrie wears a wig to mimic Simone's appearance and lures Yevgeny and his men away from Simone long enough for Saul and his team to take her back to the U.S. Carrie is captured by Yevgeny and placed in a Russian gulag, where Yevgeny confiscates her medication unless she records a statement disavowing the CIA. Carrie refuses, and ends up spending the next seven months in captivity until Saul gets her released. During Carrie's captivity, Yevgeny "saves" her from attempting to commit suicide by hanging.
Yevgeny is later stationed in Kabul, where Russia has connections with the Taliban. He stages several encounters with Carrie to get close to her, and reveals during a conversation that the two of them developed a close bond during her captivity (which she cannot remember), which led to her divulging various personal secrets to Yevgeny. Carrie's CIA superiors at the Kabul station believe her to have been turned by the Russians due to her 'relationship' with Yevgeny; due to the mutual distrust between her and the CIA, Carrie goes rogue and enlists Yevgeny's help in tracking down Max Piotrowski, as well as the flight recorder on President Warner's downed helicopter. The two eventually find the recorder, which proves that the crash occurred due to mechanical failure. Carrie confronts Yevgeny as to the nature of their relationship in Moscow, leading to the two of them kissing. Yevgeny then sedates Carrie and has his men take the flight recorder; he later makes a deal with Carrie, offering to exchange the flight recorder for the identity of Saul's deeply-embedded asset inside the Kremlin. Carrie reluctantly agrees and ultimately succeeds in finding the asset, averting a war between the U.S. and Pakistan. She and Yevgeny escape to Russia.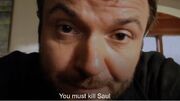 Two years later, Carrie has defected to Moscow and is in a relationship with Yevgeny; the two of them live together in the latter's lavish apartment. Yevgeny congratulates her on completing a book denouncing the U.S., unaware that Carrie is secretly operating as Saul's new Russian asset.
About Him
Season 7
He first comes to Carrie and Saul's attention following his appearance at a hospital where a gravely injured J.J. Elkins is being treated after being shot by the FBI. Gromov secretly takes photos of the young man and distributes them to media outlets with the intent of making the FBI look like the bad guys.
He resurfaces when Ivan Krupin requests a meeting with him and later that night Saul finds Krupin's crucifix necklace at the docks as Gromov and two other men are seen placing Krupin's bound and gagged body into a body bag and dumping it into the sea.
He later discovers Simone Martin's location before she is due to testify in front of a committee and he takes her away with him. After getting Simone to safety, he is angered to learn that Dante has been co-operating with the Americans and shows up at the hospital where he is being treated after being poisoned. When Dante comes to, Yevgeny orders him to phone Carrie in a bid to prove that she has been lying to him, but Dante tells her that Yevgeny is with him, so the latter suffocates him. He then flees the country back to Russia.
Carrie, Saul and several agents manage to track him and Simone down but Carrie takes Simone's place, enabling the latter to escape with Saul. However, Carrie is taken into custody by the Russians and is deprived of her medication on Yevgeny's orders. Last we saw of Carrie, she had been outplayed by Yevgeny, who told her the pill Alexander managed to get her was a useless sugar pill, as he'd gone running straight to Yevgeny with her plans and gotten a promotion out of betraying his American prisoner. So in other words, Carrie's gone seven months without her meds and without any contact with the people she trusts.
After seven months, she is traded at the Russia-Estonia border. Across the bridge, a woman is taken by two men toward Saul, and Saul confirms that it's Carrie. He watches gravely as his side takes the prisoners, including Gorin, toward the Russians, and the Russians come closer with a disheveled Carrie. They're finally close enough for Saul to glimpse Carrie clearly, and he looks dismayed by what he sees: Her hair's unkempt, she's off balance, and she appears to have no idea what's really going on. The jazz music then kicks in and picks up as Carrie's shoved toward Saul by a Russian guard. She takes off running toward him, only to rush right past him, trip, and tumble onto the ground. And Saul is shocked to find her in such a wretched condition, which sees her unable to recognize him.
"Are you alright?" he asks her, picking her up and trying to catch her eye. She just looks back confused, her eyes darting over his face and around them both, and fails to respond.
Season 8
As she recovers in Germany, Carrie experiences a series of flashbacks of someone comforting her. Later in Afghanistan, while she waits outside the office of Afghan Vice President G'ulom she is shocked when she sees Yevgeny emerge and realizes he is the person from her flashbacks who was comforting her before he ordered his men to take her away.
When Carrie heads to use the restroom in a bar, they encounter each other and he reveals that he was the one who left the note with Samira Noori 's name on her desk.
He and Carrie arrange to meet but he arranges it at the same time that morning prayers are being broadcast over a loudspeaker. He reveals that he tried to stop her from hanging herself when she was in custody and knows that she once considered drowning her daughter.
After Max is captured, she asks Yevgeny to find out if he is being held by the Taliban. He agrees to do so if she finds a way to suspend the CIA's surveillance in that area so he can make a call.
Later, when Saul discovers that she lied in her reports about her relationship with Yevgeny, he confronts her by saying that her knowledge of the President's whereabouts coupled with her contact with a Russian agent is extremely problematic. He decides to send her back to Germany. However, as she prepares to board the plane she darts for the tarmac, where Yevgeny arrives to collect her.
They travel to where Max is being held and Yevgeny tries to bargain for his release, to no avail. Max is later taken to a new location and Carrie sees him being bundled into an orange jumpsuit in order to make a videotaped confession. However, as she prepares to barge in on them, Yevgeny pulls her aside and tells her not to do anything.
The White House receives word that Max will be executed if Haqqani's death sentence is carried out. As Carrie and Yevgeny observe the Taliban preparing to move Max elsewhere, Jalal suddenly shoots him dead, leaving the scene. Carrie contacts Saul to tell him what has happened and decides to stay with Max's body. Yevgeny also stays with her.
Later when Saul arrives, Carrie says she knows where the flight recorder is. The accompanying soldiers start to place her under arrest, contrary to Saul's orders and Yevgeny alerts them to his presence by firing his gun into the air. He and Carrie get into their jeep and drive away.
They spend the night in Kohat and the next morning go out searching the bazaars for the flight recorder, only to discover it was sold to a broker. Carrie arranges to pay the broker for the return of the flight recorder and sneaks out alone at midnight to meet with the man. He eventually returns it after she transfers the money into his account. However, as she listens to the recorder, Yevgeny shows up and they listen to it together, learning that a mechanical failure brought the Presidents' helicopter down. She asks Yevgeny for his help delivering the flight recorder to the embassy in Islamabad. He is standoffish as she has been lying to him. They kiss and then he suddenly sedates her with a needle, packing up the flight recorder. He and his men also take Carrie back to her room where he lays her on her bed with a kiss on her cheek.
After Carrie comes to the following morning, she discovers that Yevgeny's apartment is empty. He accosts her, making her an offer - the only thing more valuable to the Russians than the flight recorder is the identity of a double agent that Saul has placed very highly inside the Kremlin. Carrie decides to turn herself in at the Kabul CIA station as a means of being put on a plane back to the US.
After discovering a collection of books with pieces of paper in Saul's house, Carrie discovers that is how Saul has been communicating with his Russian asset and arranges a call with Yevgeny to report her findings. However, she is unable to pin down the asset's identity in order to obtain the flight recorder. Yevgeny tells her that the asset must be neutralized one way or another and the only way to stop this is to eliminate said asset or stop the person who is passing the information to the United States. This means that she must kill Saul.
Carrie shows up at Dorit's house in the West Bank and tells her that Saul has died. She gives Carrie a USB key from Saul, which contains a video revealing the identity of the Russian asset. Saul is spared being killed and manages to deliver a warning to Scott Ryan to get the asset Pomerantseva to safety after Yevgeny, who has been shown the video of Saul's revelation, contacts Mirov to tell him. Scott and Anna barricade themselves in the basement, but rather than be captured Anna decides to commit suicide with his gun.
She completely burned Saul's asset, Anna Pomerantseva. The asset winded up killing herself. Saul was devastated by that. The effect of that all happening was, Carrie was able to avert a war from happening, but the relationship with Saul was severed. The GRU officer Yevgeny tells Carrie it is the cost of doing business. You burn assets, contacts, friendships because the mission is the mission.
Carrie flees the country with Yevgeny and two years later the two of them are living together in a long-term relationship(???) in Moscow. Carrie and Yevgeny go to a jazz concert to celebrate the publication of their new book "Tyranny of Secrets". Cut to Carrie back in the auditorium, sitting next to her unwitting primary source of Russian information while enjoying the music.
Fitting Ending
Yevgeny Gromov got exactly what he deserved by the end of Homeland's finale. In the titillating S8 finale, fans watched as Carrie battled over loyalty to Saul, her country, and Gromov. Though it seemed like Yevgeny had persuaded Carrie to move over to his side, we find out that Carrie had actually outsmarted both he and the Russian intelligence.
Carrie becomes a secret informant to the US government within the Russian government, giving an unaware Gromov a blind taste of his own medicine. In that sense, this character got exactly what he not only deserved, as well as what he practiced throughout the show. - ELIVA ANDRIAMORA
Comments
If Gromov discovered her betrayal, would he protect her or turn her in? I don't think there's any question that, that he would, he would be, he would feel betrayed too, is very cool. And then probably would just curse and beat himself up that he didn't realize that this was what she was up to all along. Alex Gansa
Certainly after Carrie playing Yevgeny's pawn and going after Saul's longtime Russian asset and then the man himself, seeing Carrie in Moscow at Yevgeny's side living a life of luxury only to be sending info to Saul, that was a very long-game reveal right at the end … DEADLINE
Trivia
In Active Measures, Saul talks to Ivan Krupin about Yevgeny Gromov. Ivan says Yegnevy is considered a 'creative thinker' who impressed the GRU 6th board with Active Measures in Europe.
Active measures was a Soviet term for political warfare actions conducted by the Soviet security services to influence the course of world events, "in addition to collecting intelligence and producing a politically correct assessment of it." Active measures ranged "from media manipulations to special actions involving varying degrees of violence". They were used ​​overseas and domestically. They have included disinformation, propaganda, falsification of official documents, assassinations and political repression, such as breaking into churches and persecuting political dissidents. This includes the men on the ground.
The 6th board is SIGINT - Signal Intelligence - for Electronic and Cyber ​​Intelligence.
Anyone who has ever had to deal with what Kipling called "The Great Game" and what James Angleton of the CIA referred to as "the world of smoke and mirrors" will surely agree that the greatest enemy of all is the unforeseen. In Homeland, Yevgeny Gromov LOST the Long Game.
Quotes
[mysterious music playing.]
Mr. National Security Advisor.
Ivan.
Not bad.
We buy this for you? You certainly helped.
Thank you.
You're a generous people.
Wanna introduce you to a friend.
This is Kira.
Kira, Saul Berenson.
Hi.
Sorry, my hands are gross.
Nice to meet you.
Sorry for interrupting.
Not at all.
Hope you're hungry.
Thank you, but I can't stay long.
- Just passing through.
- Leave it on.
Kira, we're gonna take a walk up to the lookout, okay? I'm glad to see you're settling in.
I have.
Thank you.
How 'bout you? Still divorced? Didn't go crawling back to your wife after all the trouble in Berlin? Fuck off.
Talk to me about Slovyansk. 2014.
What about it? Russian state TV reports Ukrainian soldiers crucified a boy in the town square.
Yeah.
Nailed him to a board for the alleged crimes of his separatist parents.
That was bullshit.
Never happened.
Of course not.
Directorate Six made it up.
You see the story about JJ Elkins dying unattended in the hospital? Virginia? One couldn't help notice a similar operational signature.
You think it was us? Fake death of one boy stirred up enough anti-Ukrainian sentiment in Russia to justify an invasion.
Fake death of the other sparked a massacre that might topple the presidency.
Yeah.
Sure.
But two events, years apart.
No, you give us a lot of credit.
Par for the fucking course.
I read your debrief on active measures.
If anything, you ran up enough efforts to undermine democracies all over the world.
Yeah, this was different.
How so? It's too dangerous, and too soon after we were caught with our hands in your elections.
[whirring.]

What do you know about Yevgeny Gromov.
[birds chirping.]
Yevgeny Gromov.
Well, Gromov was responsible for that crucifixion story.
I suppose you knew that.
Uh, creative thinker, yeah.
Made an impression at Directorate Six.
Nobody's seen him in a couple of years.
May not have lasted.
Yevgeny was a self-promoter.
You don't think the Kremlin tucked him away somewhere? With a budget and a lot of cover? People say it laid the groundwork for Brexit.
More or less rethought active measures for the Facebook generation.
It's quite a resume.
You don't buy it? - One guy? No.
- Well, maybe he's turned his considerable skills against the United States.
[river flowing.]
[lighter clicks.]
Know what it's called? - This? - Mm-hmm.
Snake River.
- You know why? - No.
Indians were trying to communicate with your explorers.
Showed them the river, made like this with the hand.
Your people thought it meant "snakes.
" Hmm.
What'd it mean? Fish.
Sometimes, a domestic crisis is just a domestic crisis. -Saul told Krupin
I guess this means Simone's already testified, or is about to.
Sit down.
Well, I'm not gonna save your asses now by reading some stupid statement saying this was all a CIA plot.
Oh, I think you will.
What's the point anyway? People will know the statement was coerced.
- No one will believe it.
- They don't have to. As long as the seed of doubt is planted, that's all I need-- something to water and let grow.
More reason not to do it.
[pills rattle.]
Your medication.
[sighs.]
Your new medication. Yes, I know all about that.
Am I supposed to be impressed?
No, you're supposed to ask yourself how do you want to spend the rest of your days here-- reading nice books that Aleksandr brings you and exercising in the yard, or gone mad, locked up in an asylum? Make the statement. Admit your guilt, apologize to the Russian people, and the pills are yours as long as you need them.
I said no.
It will be months, Carrie. Maybe longer. Very powerful men are upset. They're not gonna exchange you soon, or for nothing. [sighs heavily.]
- [pills rattle.]
- [Yevgeny.]
Think about it. You have till tomorrow to decide. Aleksandr! [door clanks and creaks.] [engines revving, sirens chirping.] - Gromov told Mathison
"It's the game," Gromov told Mathison.
Appearances